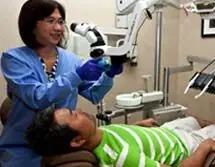 SDA dental offers patients precision and comfort in treatments ranging from simple fillings to complex dental restorations. We specialize in the practice of reconstructive, esthetic, and implant dentistry. If you are in need of a filling or crown, our goal is to restore your mouth so that it looks and feels beautiful and natural. The restorations we create for you blend seamlessly with your natural dentition. Please refer to our list of services for more detailed descriptions of what we have to offer.
Our Services
Cosmetic & Restorative Dentistry
SDA's Cosmetic & Restorative services include Veneers, Composite Bondings, White Filling, Crowns and Bridges, Tooth Whitening. Read more..
Root Canal Therapy
Root canals are tiny passageways that branch off from beneath the top of the tooth, coursing their way vertically downward, until they reach the tip of the root. Read more..
Implants
Implants are synthetic structures that are placed in the area of the tooth normally occupied by the root. Implants are anchored to the jawbone or metal framework on the bone and act as a foundation for an artificial tooth or permanent bridge. In some cases, implants can be used to attach dentures Read more..
Invisalign
Invisalign is proven technology designed to give you the smile you've always wanted, without the pain and anxiety associated with metal braces. Unlike conventional metal braces, Invisalign® uses a series of Read more..
Appliances
SDA's Appliances include Night Guards and Snore Guards. Read more..
Hygiene
Having your teeth professionally cleaned is essential to your dental health. When you come to our office for a cleaning, our hygienists will gently inspect your gums for any signs of periodontal disease Read more..